After coming back from an eventful Saturday night and slow Sunday afternoon, I am eager to write a blog post.
A little bit about my weekend before we get into the blog. First thing is my boyfriend and I went to Madison for a badger hockey game on Saturday. It was fun, we went to eat and had some drinks and then watched the game. The game didn't end the way we wanted and to make things worse...the car broke down outside of Madison. We were able to get a tow truck and we had some great friends that picked us up. Very thankful for that.
Yeah, so my weekend was busy and this blog post will be up kind of later than usual. Anyway, the idea for this post came from my super neato sister. She made a fundraiser on Facebook for a simple cause and you can check it out here:
https://www.facebook.com/donate/1994381897443343/10210323363696160/
I'm not asking you to donate but the smallest donation would help. And I think that goes with just about any fundraiser or foundation. I included some other links for my favorite organizations.
The italicized text is taken from the respected website.
https://foundationbeyondbelief.org/
Foundation Beyond Belief is a humanist charity that promotes secular volunteering and responsible charitable giving. Guided by the principles of secular humanism, our mission is to:Unite the humanist community in volunteering and charitable efforts.Advocate for compassionate action throughout the world.
Teachers all over the U.S. need your help to bring their classroom dreams to life. Choose a project that inspires you and give any amount.
I included this one because I have a soft spot for teachers and they are so underrated.
GLAAD rewrites the script for LGBTQ acceptance. As a dynamic media force, GLAAD tackles tough issues to shape the narrative and provoke dialogue that leads to cultural change. GLAAD protects all that has been accomplished and creates a world where everyone can live the life they love.
How can you not agree to that?
NCSE defends the integrity of science education against ideological interference. We work with teachers, parents, scientists, and concerned citizens at the local, state, and national levels to ensure that topics including evolution and climate change are taught accurately, honestly, and confidently.
Another topic that is close to my heart.
https://www.adoptapet.com/animal-shelters
This link doesn't take you to a specific donating page but you can look up your local shelter and find their page and possibly donate that way. Think of the little animals! #adoptdontshop
https://www.huffingtonpost.com/zinnia-jones/the-salvation-armys-histo_b_4422938.html
This last link highlights the Salvation Army and the history of the organization. I realize there will be many of these out and about soon if not all ready. Feel free to donate or not donate to whatever organization you want but I have provided a few options that weren't necessarily religiously based.
These links can be used for donating purposes or just to further your knowledge on the topic.
The point of this blog wasn't to beg for money but to show some organizations that might not get the attention they deserve.
If you enjoyed this post please feel free to share or even leave a comment. If you have a favorite place to donate to leave a link in the comment section! And don't forget to make it rain this season!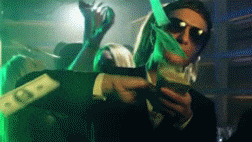 That's it for this post. I hope you guys had a great weekend!
Cheers,
Slotholy